Franking machine prices vary enormously enormously depending on the features, brand and whether you want to rent or buy your machine.
You can buy a used franking machine from as little as £495 upfront or you could pay as little as £10/month* if you repaid that amount over 5 years.
New franking machines typically cost between £1,000 and £27,000 to buy or between £20/month and £500/month to rent.
However, finding out the actual price of a specific make and model is notoriously difficult, as most of the major UK manufactures and independent franking machine companies don't like to publish their prices.
Moreover, the cost of buying or renting a machine is just the beginning, you'll also have to budget for a maintenance and inspection contracts, ink, envelopes, labels and of course postage itself!
Nevertheless, here's a breakdown of the different classes of franking machines, very roughly how much they cost and how much post you need to send each month to break-even**:
Franking Machine Prices for Small Business (Low Volume)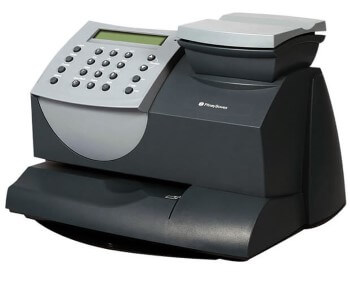 Small businesses that don't send large volumes of mail can likely get away with the cheapest machines on the market. In 2018, this includes the Pitney Bowes DM60, Neopost IS-280c, FP Mailing PostBase mini and Frama Matrix F12.
Features included in these models include: scales for parcels, advertising messages, security PIN and ability to print most classes of mail.
Here are the key things you need to know about how much they may cost:
Estimated price to buy new machine: £1,000+
Estimated price to buy used machine: £495+
Estimated price to rent: £20+/month
Recommended usage volume: Under 100 letters per day
Minimum number of 2nd class letters needed to break-even: 112/month
Franking Machine Prices for Medium Sized Business (Mid-Volume)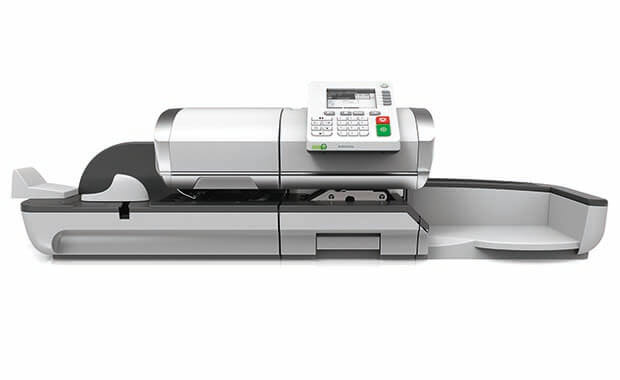 Medium sized businesses or small businesses that send a decent amount of post will likely need something a bit more heavy duty than a basic, low volume franking machine. Mid-volume models in 2018 include the Pitney Bowes DM220i, Neopost IN-600, FP PostBase Qi4, and the Frama Matrix F32.
Additional features included in these models include: letter feeder, greater flexibility on envelope thickness, and remote diagnostics.
Here's roughly the starting prices for machines in this category:
Estimated price to buy new machine: £2,500+
Estimated price to buy used machine: £995+
Estimated price to rent: £50+/month
Recommended usage volume: Up to 250 letters per day
Minimum number of 2nd class letters needed to break-even: 278/month
Franking machine Prices For Enterprise or Large Commercial Operations (High Volume)

For businesses that send a lot of post, the only option is a high volume franking machine. Current models include the the Pitney Bowes SendPro series, Neopost IS-6000, FP Mailing PostBase One and the Frama Matrix F82.
Additional features include: Ability to feed, seal, weight and frank letters, automatic label dispensers and WiFi & Lan connections.
Estimated price to buy new machine: £5,000+
Estimated price to buy used machine: £1,495+
Estimated price to rent: £100+/month
Recommended usage volume: Over 250 letters per day
Minimum number of 2nd class letters needed to break-even: 556/month
New vs Used Prices
Prices for used machines are up to 70% less than new models and the relative amount you save tends to increase based on the volume of machine you're looking at.
For example, used low volume franking machines for small business are generally 30-50% cheaper than new models. Whereas high volume models are often 50-70% cheaper.
And there's a good reason why you save more with higher volume models. Used machines often don't use the latest technology and while this makes little difference for many small businesses it can have a very real impact for larger ones.
For example, the lowest price to send a 2nd letter with a franking machine that does not use the latest Mailmark franking technology is 41p, but you can pay as little as 38p with a new Mailmark machine.
Now 3p may not seem like much, but for a business that sends 10,000 2nd class letters a month, the difference would be £300 and makes using the newer machine almost a no-brainer.
Buying vs Leasing & Rental Costs
Rental costs for used machines are generally not much cheaper than new ones, so generally speaking if you are going to rent you should go for a new model.
While buying a franking machine might seem like a good way to save money in the long run, the economics are not as straightforward as they seem.
The cheapest models currently sell for £495 vs rental costs of around £20 per month. This means in theory you'd recoup your investment in around 2 years.
However, most franking rental and leasing contracts will include Royal Mail's mandatory annual maintenance, service and inspection costs, whereas if you buy a machine you'll still have to pay these.
On the other hand, many rental agreements will require you to buy your supplies (ink, envelopes, labels, etc.) from your supplier, which means you can end paying far more than you would if bought them from somewhere like Amazon.
Therefore, a rental contract is certainly the easiest and lowest cost way to get started and is generally the recommended option for most businesses getting started with franking. However, businesses that know what they're doing, can save money by buying a machine, provided they've fully costed all aspects of ownership.
Franking Machine Deals & Free Trials
Currently, Pitney Bowes is the only franking machine supplier to offer a 30-day free trial offer and only on their basic DM60 model.
Therefore, to get the best deal you should request quotes from all the major UK suppliers based on your needs. You can go to each site individually or you can fill-in the quote form at the top of this page and compare all the suppliers at once.
* This example is for illustrative purposes only. It assumes borrowing £500 at 6% per annum repaid over 5 years. You would be asked to pay £9.67 per month for a total repayment amount of £579.98. However, you would be responsible for the full amount, even if your machine stopped working before the end of 5 years.
** Break-even calculation is based on the 2017/18 savings of 18p per 2nd class letter of franking vs stamps and assumes you get the cheapest rental deal. The actual volume of mail you'll need to be sending to make franking worthwhile is likely a little bit above these estimates to take into all other associated costs.