The Frama Matrix F12 Franking Machine is their entry level machine for small businesses. Below we have a look at prices, specifications and features along with how to get good deals on Matrix F12 ink and our review.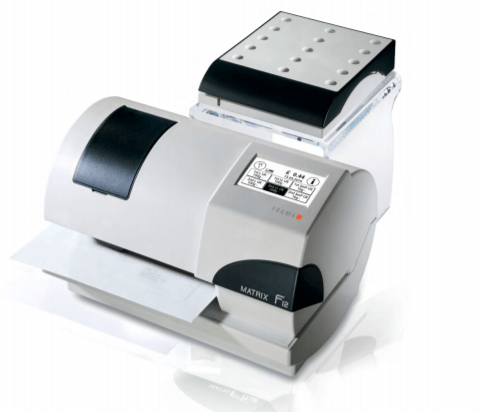 Matrix F12 Prices
Rental Price: From £30 per month
Used Purchase Price: From £495 (price for previous EcoMail model)
New Purchase Prices: Not Available
For more see: 2018 Franking Machine Prices & Franking Machine Rental.
Matrix F12 Features & Specs
Up to 50 letters per day
Standard 2kg scale (5kg optional)
Large back-lit touchscreen display with 18 OneTouch functions
Mailmark™ compliant
9 cost centres
Pop-up weight display and automatic postage recalculation
3 freely definable advertising stamps
10 mm thickness capacity
Always the latest postage rates thanks to online tariff updates via FramaOnline2
Integrated Ethernet LAN interface (RJ45)
High value warning
Automatic date and time change
Comparable models from other franking machine suppliers: Pitney Bowes DM60, and FP Mailing PostBase mini.
Matrix F12 Ink
Royal Mail now mandates that all franking machines in the UK now use blue rather than red ink.
Unofficial Compatible Ink
Name: Frama Matrix F12 Blue Compatible Ink Cartridge
List Price: £69.93
Available: Amazon
Please note that Frama does not recommend using any off-brand or unofficial ink cartridges. If you use one, you do so at your own risk. Always check your contract.
Frama Matrix F12 Franking Machine Review
Frama Matrix F12 Franking Machine Review Score: 4/5
FrankedMail.co.uk
has given the Frama Matrix F12 a score of 4 out 5 since while it is an outstanding machine with many great features, it is not the cheapest entry-level model out there.
For more see: Official Matrix F12 webpage