The Pitney Bowes DM60 franking machine is Pitney Bowes' entry level machine for small businesses. Below we have a look at prices, specifications and features along with how to get good deals on DM60 ink and our review.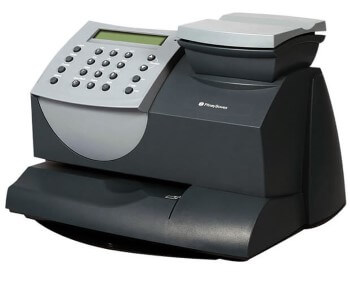 DM60 Prices
Rental Price: £17.99 plus VAT per month (includes full service cover)
Used Purchase Price: £595
New Purchase Prices: £1,160
Current offers:
Free 30-day trial
Free £20 postage credit
Free unlimited envelope logo messages
Free starter pack
Free INVIEW® postage reporting
For more see: 2018 Franking Machine Prices & Franking Machine Rental.
DM60 Features & Specs
Recommend for businesses sending up to (but not limited to) 30 letters and/or parcels per day.
Envelope printing speed of up to 18 letters per minute.
Access to the lowest postage prices with Mailmark.
No additional rate update charges or postage refill fees.
Print most classes of mail including Registered and Special Delivery directly on envelopes or labels.
Integrated postal scale capacity: 2.5kg
Five pre-loaded advertising messages, one free bespoke envelope message (e.g. company logo, web address or advertising message)
4-digit PIN security system
Automatically download software updates and postage rates via IntelliLink.
Ink jet printer.
Previous models: DM50, DM55, K700
Also sold as: Mailstart+, IRIS 60, AS65, FM60, IMS-60, and DP60
Comparable models from other franking machine suppliers: FP Mailing PostBase mini and Frama Matrix F12.
DM60 Ink
Royal Mail now mandates that all franking machines in the UK now use blue rather than red ink.
Official Ink
Name: Pitney Bowes Franking Ink Cartridge – Blue – DM50 (K700) Series & DM60 Series.
List price: £81.95*excl. VAT
Available: Pitney Bowes Website
Unofficial Compatible Ink
Name: CCSL DM50 DM55 DM60 K700 K721 K722 BLUE Compatible Ink Cartridge.
List Price: £6.99
Please note that Pitney Bowes does not recommend using any off-brand or unofficial ink cartridges. If you use one, you do so at your own risk.
Pitney Bowes DM60 Franking Machine Review
Pintey Bowes DM60 Franking Machine Review Score: 5/5
FrankedMail.co.uk
has given the Pintey Bowes DM60 a perfect 5 out 5 since we feel it offers great value for money for a entry-level franking machine.
For more see: Official DM60 webpage