The Pitney Bowes SendPro P-Series offers the highest-end franking functionality across 4 models: P1000, P1500, P2000 & P3000. Learn more about these machines below including prices, specs, features and our review.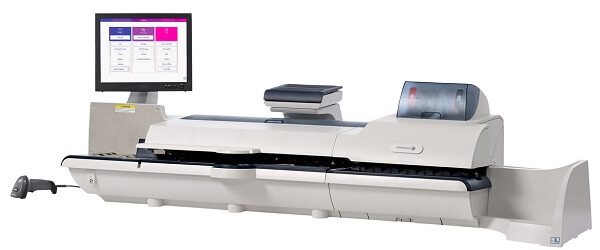 SendPro Prices
Rental Price: £64 – £175 per week
Used Purchase Price: From £6,995
New Purchase Prices: £12,040 – £26,897
For more see: 2018 Franking Machine Prices & Franking Machine Rental.
SendPro Series Features & Specs
Get the lowest postage prices with Mailmark.
Max processing speed: 120 LPM – 310 LPM Non-WOW; 60 – 205 LPM WOW.
Weigh-on-the-Way® (WOW®) up to 1000g on all models expect P1000.
Dimensions-on-the-Way® (DOW®) on all models expect P1000.
Envelope processing: Thickness: Feed and seal up to 16mm; Media size: 89mm x 127mm up to 254mm x 355mm; Envelope flap depth: 25mm to 98mm.
Receiving: Integrated software with reporting from base system. Scanning hardware, number of recipients, email notification capability.
Full colour printing (CMYK): Up to 1200 dpi; 22mm tall graphics
Envelope sealing system: Pump-fed pad; closed flap feeding. Seal only mode standard.
Weighing: 7 kg scale standard; additional options up to 35 kg. Differential weighing (5kg standard on P1500).
Postage accounting: 1000 standard; up to 3000 optional
Expanded analytics: INVIEW (web-based)
Package tape printing: Adhesive roll tape standard (gummed roll tape on P3000)
Colour touch screen display: 15″ detachable display standard (10.2″ on P1500)
Peripheral hardware options: Barcode scanner, laser printer, wireless keyboard, power stacker and power stacking kit
Weight: 27.7 kg – 63.6 kg
Previous models: Connect+ 1000, Connect+ 2000, Connect+ 3000
Also sold as: IRIS 1000, 2000 & 3000, AS CONNECT 500, 1000 & 2000, JET PRO-1500 & 2000, 2020Connect,
Comparable models from other franking machine suppliers: FP Mailing PostBase Ten & PostBase One and Frama Matrix F62 & Matrix F82.
SendPro P-Series Ink
Royal Mail now mandates that all franking machines in the UK now use blue rather than red ink.
Unofficial Compatible Ink
Name: Pitney Bowes Genuine Original SendPro P1000, P1500, P2000 & P3000 Standard Capacity Smart Blue Ink Cartridge – 788-BL
List Price: £189.46
Available: Amazon
Please note that Pitney Bowes does not recommend using any off-brand or unofficial ink cartridges. If you use one, you do so at your own risk.
Pitney Bowes SendPro P-Series Franking Machine Review
Pintey Bowes SendPro P-Series Franking Machine Review Score: 5/5
FrankedMail.co.uk
has given the Pintey Bowes SendPro P-Series a perfect 5 out 5 since we feel the 4 models P1000, P1500, P2000 & P3000 offer great solutions for businesses looking for high-end franking functionality.
For more see: Official SendPro P-Series webpage