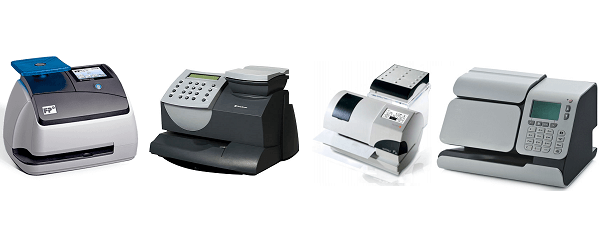 Finding the right franking machine can be tricky. At a minimum you'll want to compare models and prices from the 4 manufacturers: Pitney Bowes, Neopost, FP Mailing and Frama.
Ideally you'll also take the time to compare all Royal Mail authorised suppliers. Then you'll want to compare features such as Mailmark, scales, speed, etc. Finally, you'll want to compare rental vs buying options.
Fortunately, our free quotes help make this process easier and faster. Just use the form above to get started now.
Below we compare each company's entry level model to give you an idea on what to look for, followed by some tips on how to get the best deals with free online franking machine quotes.
Franking Machine Model Comparison
| | Pitney Bowes DM60 | Neopost IS-280c | FP PostBase Mini | Frama Matrix F12 |
| --- | --- | --- | --- | --- |
| Speed | 18 LPM | 18 LPM | 15 LPM | Low |
| Max envelope thickness | 8 mm | 8 mm | 6 mm | 10 mm |
| Scale Capacity | 2.5 kg | 2 kg | 2 kg | 2 kg |
| Machine Weight | 4.0 kg | 2.9 kg | 3 kg | 6. 8 kg |
| Mailmark ready? | Yes | Yes | Yes | Yes |
| Used Price | £595 | NA | NA | £495 (former Ecomail model) |
Read more about the: Pitney Bowes DM60, Neopost IS-280c, FP Mailing PostBase Mini and Frama Matrix F12.
5 Tips For Comparing Free Franking Machine Quotes
1. Make sure you compare apples to apples
All 4 franking machine manufacturers make a range of low, medium and high volume models. So when getting quotes make sure you're comparing similar models from each company.
Letters per minute (LPM) speed is the primary metric that really differentiates models from each other. Other common differences include feeder type (manual, semi-automatic and autonomic), number of accounts, scale capacity, max envelope thickness, machine weight and dimensions and additional functionality (sealing, folding, etc.).
So when comparing models make sure they offer similar features to each other and that these will meet all your needs and requirements.
2. Understand Renting Vs Buying Options
There are two ways to get a franking machine either buy one outright or get a rental / lease contract. Most suppliers prefer to offer rental contracts as the lifetime revenue from them tends to be higher and it offers them cashflow stability. However, that does not mean it's the best deal for you.
Rental contracts offer a cheap way to start using a franking machine upfront, but may cost more in the long run. To save even more money you can even buy used models, but be careful as older models may not support the latest franking technology such as Mailmark or SMART.
On the plus side, renting or leasing your machine means you never have to be worried about being stuck with an out-of-date model.
3. Ask About Required Royal Mail Licences, Maintenance & Service Contracts
One very important thing to ask about when either renting or buying your franking machine is getting your franking licence along with maintenance and service coverage contracts.
Royal Mail has somewhat strict guidelines on how often your machine must be inspected and who can do so. The current Royal Mail Scheme for Franking Letters and Parcels requires machines to be inspected annually and only by an Authorised Maintainer.
Moreover, if your machine breaks or has any significant issues you can only get it serviced by an Authorised Maintainer or replaced by an Authorised Supplier.
Many leasing and rental agreements will include these fees as part of your contract, whereas if you buy your machine you'll have to arrange these agreements separately.
Just make sure you factor in the costs when comparing your quotes.
4. Don't forget about Ink
Franking machines are basically specialised printers. And like printers they use a lot ink. In fact, after postage charges, ink may be your next biggest cost.
So when comparing models make sure you find out as much as possible about how much ink costs, how many impressions you can make per cartridge and if cheaper, non-official, cartridges are available (note using them may void your warranty).
Some rental and leasing contracts will require you to buy ink directly from your supplier, which means a seemingly cheaper rental agreement could end-up being more expensive over time. So, always ask about ink when getting your quotes.
5. Don't Discount Smaller Suppliers
Broadly speaking you'll have two options when it comes to getting your franking machine. Either you'll get one from one of the 4 manufacturers or an authorised independent supplier. While getting one straight from the manufacturer might seem like a no-brainer, the truth is a little more complex.
Most of the manufacturing companies care primarily about their biggest customers. So if you're an SME looking for a machine, you may find they're not the most responsive. This is fine if you have no issues with your machine, but can be a pain when it comes to inspection time or your machine needs any maintenance.
Independent suppliers are often more responsive to small businesses.
Therefore, you may also want to get quotes from at least a few independent suppliers to see what they're offering. Just be aware that they frustratingly often rename models from the manufacturers to their own brand. This can make comparisons a little trickier.
However, you should be able to ask who makes their machines and what the comparable model is. If they won't tell you, then you probably don't want to go with them anyway.
You can get started now by comparing franking machines using the free quote form at the top of this page.