The Neopost IN-360 Franking Machine is low-volume machine for small businesses and step up from their most basic, IS-280c model. Below we have a look at prices, specifications and features along with how to get good deals on IN-360 ink and give our review.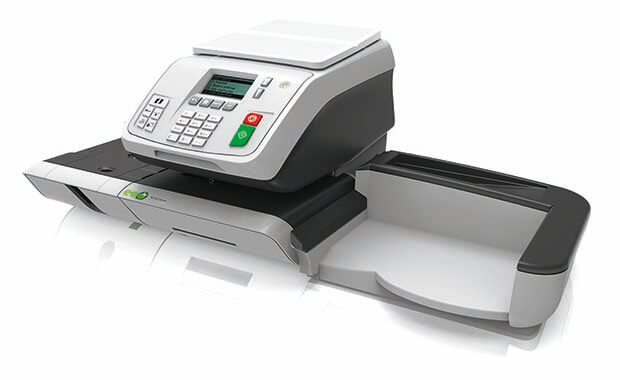 IN-360 Prices
Rental Price*: Withheld at Neopost's request
Used Purchase Price: Withheld at Neopost's request
New Purchase Prices*: Withheld at Neopost's request
* Note, Neopost do not have a price list online for the UK. The numbers above have been converted from US amounts published in their December 2016 GSA Price List, based on June 2017 exchange rates. We make no claim on their accuracy and are presented here simply to give a very rough guide on how much each machine might cost.
For more see: 2018 Franking Machine Prices & Franking Machine Rental.
IN-360 Features & Specs
Process up to 45 letters per minute
Maximum envelope thickness: Up to 9.5 mm
Envelope orientation: Landscape or Portrait
Weighing platform (integrated): 2kg scale
Personalised text messages
PIN code protection
Automatic rate download
Low- ink email alerts
Remote Diagnostics
Optional Differential Weighing
Optional additional scales 3, 5, 10 or 30kg
Optional barcode scanner and USB printer
Mailmark compatible machine
Comparable models from other franking machine suppliers: Pitney Bowes DM110i, FP Mailing PostBase Qi3 and Frama Matrix F22.
IN-360 Ink
Note: Royal Mail now mandates that all franking machines in the UK now use blue rather than red ink.
We don't currently have any listings for IN-360 ink, please check your supplier.
Please note that Neopost does not recommend using any off-brand or unofficial ink cartridges. If you use one, you do so at your own risk and may also void your warranty.
Neopost IN-360 Franking Machine Review
Neopost IN-360 Franking Machine Review Score: 4/5
FrankedMail.co.uk
has given the Neopost In-360 a score of 4 out 5 since since it is a solid machine that can handle most low-volume mailing tasks.
For more see: Official IN-360 user guide