The Frama Matrix F42 Franking Machine is designed for businesses with moderate mailing needs and is a mid-high volume machine. Below we have a look at prices, specifications and features along with how to get good deals on Matrix F42 ink and our review.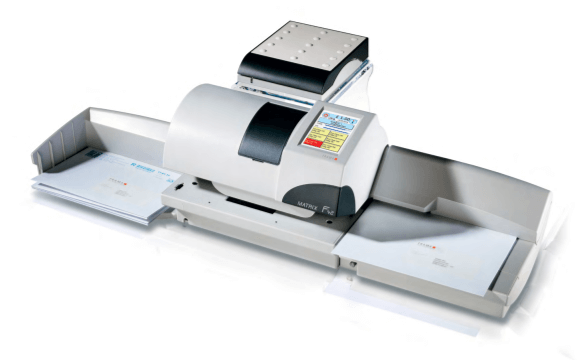 Matrix F42 Prices
Rental Price: Not Available
Used Purchase Price: Not Available
New Purchase Prices: Not Available
For more see: 2018 Franking Machine Prices & Franking Machine Rental.
Matrix F42 Features & Specs
Up to 65 letters per minute
Semi-automatic (MFD) or automatic letter feeder
Auto-adjustment for letter thicknesses up to 10 mm
Mailmark™ compliant
Integrated label dispenser
Large back-lit colour touchscreen display with 36 OneTouch functions
Stack weighing mode for automatic recalculation of postage
50 cost centres
Always the latest postage rates thanks to online tariff updates via FramaOnline2
Scales 2 kg / 5 kg integrated
High value warning
Automatic date and time change,
Automatic envelope sealer optional
Comparable models from other franking machine suppliers: Pitney Bowes DM300M, and FP Mailing PostBase Qi9.
Matrix F42 Ink
Royal Mail now mandates that all franking machines in the UK now use blue rather than red ink.
Unofficial Compatible Ink
Name: Frama Matrix F42 Blue Compatible Ink Cartridge
List Price: £97.93
Available: Amazon
Please note that Frama does not recommend using any off-brand or unofficial ink cartridges. If you use one, you do so at your own risk. Always check your contract.
Frama Matrix F42 Franking Machine Review
Frama Matrix F42 Franking Machine Review Score: 4/5
FrankedMail.co.uk
has given the Frama Matrix F42 a score of 4 out 5 since it offers great features, but does not have prices listed online.
For more see: Official Matrix F42 webpage